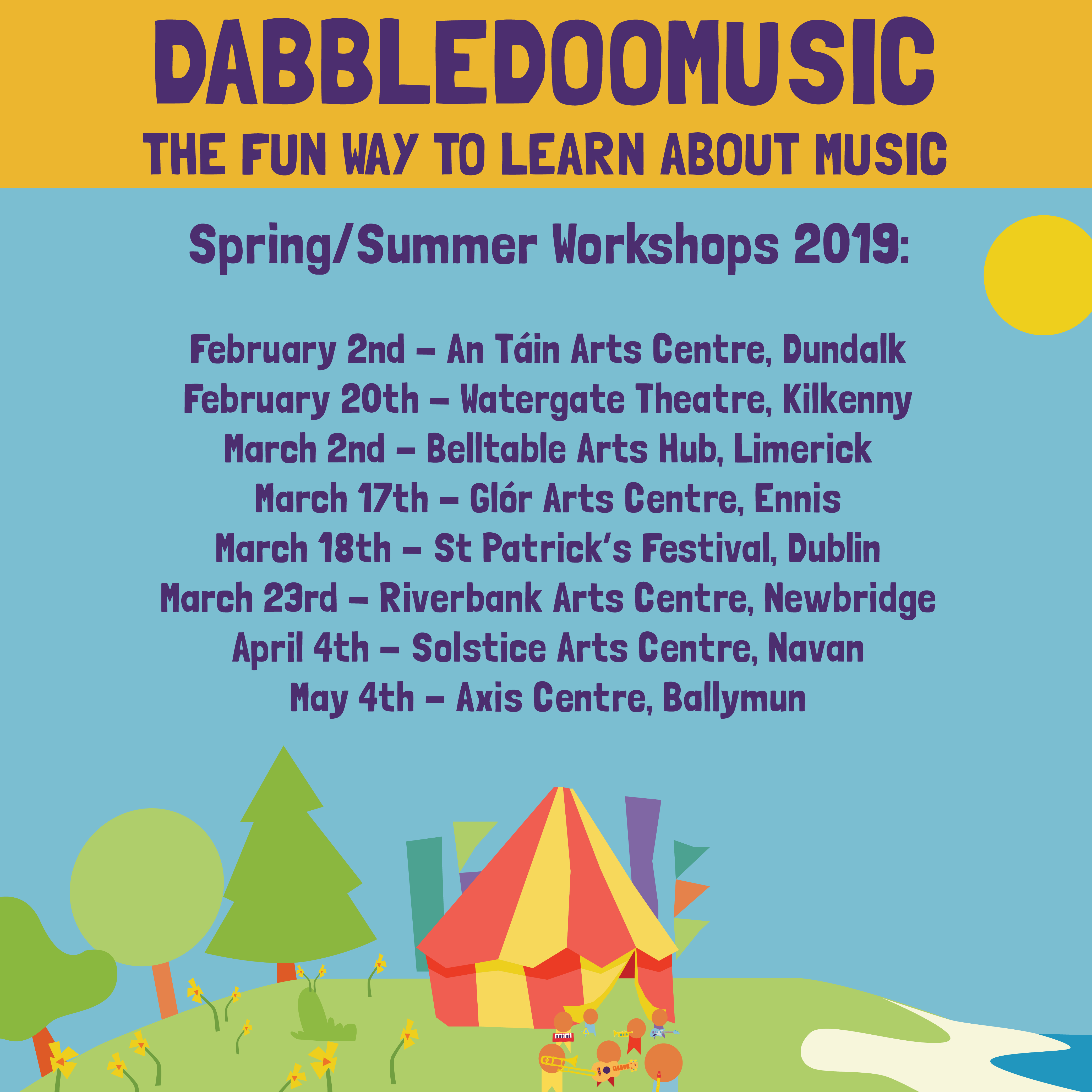 Last year I collaborated with a number of theatres and arts centres to provide workshops for young people and their families. The workshops I ran were quite successful and it's a great way to get out to different parts of the country. I'm looking to expand our outreach programme in 2019 and have resultantly lined up a Spring/Summer tour.
First off I will be in Dundalk's An Táin Arts Centre this Saturday the 2nd of February. I will be doing two workshops at 11am and 12pm, with tickets available here. I'll be travelling to Kilkenny's Watergate Theatre on Wednesday February 20th. This one is ideal for local parents who are looking for an educational activity during the mid-term break. The workshop is at 11am and tickets are available here. All the way to Limerick next for a couple of workshops in the Belltable Arts Hub. Workshops will be at 12 noon and 2pm and tickets can be found here.
For St Patrick's Day I'll be in musical Ennis. I'll be running workshops in Glór at 12.30 and 1.30, tickets available here.The following day I'll be back up in Dublin to collaborate with St Patricks Festival. I'll post details closer to the date.
The 23rd of March I'll be in the Riverbank Arts Centre, Newbridge. For this, I'll be running workshops at 10.30 and 12 noon. Tickets can be found here. April 4th I shall be in Solstice Art Centre in Navan alongside our own Shane McKenna. What we will be doing is discussing our collaboration over the years under the theme 'Music & Maker'. This will be a great opportunity for us to get out the old notebooks and sketches and take stock of what we've created together over the last decade. This event is pre-booked for schools already but you'd never know, we might do another one in the near future!
The last workshop of the tour will be in the Axis Ballymun. Looking forward to this one as it's a great venue. I'll be workshopping at 11am and 12.30 and tickets are available here.
Although our resources are primarily aimed at 6-12 year olds, we have designed our workshops so that they're great fun for any family members (younger or older!) who are also attending can benefit from them. The aim is to foster a relationship with music that can continue beyond the workshop and into the home. Looking forward to working with these fantastic venues and making some music together!