For the past number of years I have played in a Dublin-based ska band called Interskactic. The band was formed by a bunch of musicians who loved the old-school Jamaican big-band ska from the 1960's.

One of the key bands that were a major influence to us from this period were The Skatalites. They were pioneers in kicking off the entire ska genre and were big influences on the likes of Bob Marley as well as the English ska movement in the 1970's with the likes of The Specials and Madness. Here's one of their most iconic songs, Guns of Navarone:
By complete chance, a few weeks ago I got a phone call from the piano player of The Skatalites. He explained that the band were coming to Ireland in 2 weeks to play three gigs and that their regular trombone player wasn't able to travel with them. The reason he was phoning was to see if I would be interested in playing with them!!!

It didn't take me long to decide.
He said he'd send me on the set list and that I would have two weeks to learn the parts to 22 songs off and go straight on stage to perform with them without a rehearsal. With Dabbledoo being my primary focus these days, it had been a while since I have had a musical performance pressure situation such as this. On the other hand, it was also a nice challenge and too good an opportunity to miss.
Upon writing this, the three concerts were last week and all of them went great! The first night in Dublin was nerve racking but I settled into it after a few songs and then the following two nights were very enjoyable.
On reflecting on the whole experience it reminded me of some important points related to the process of memorising music. These were all things I had known from when I started playing music in years ago in primary school but hadn't experienced in quite a few years.
If you're teaching music to children in a classroom or if you're learning music yourself here are my 5 thoughts on the benefits of memorising music and the process of how to go about it:
1. Learn music to improve memory
There is a lot of scientific evidence to support that learning music improves memory. The University of Texas at Arlington back in 2014 conducted a study to measure the electrical activity of neurons in the brains of 14 musicians who had been studying classical music for at least 15 years. The musicians played both word and picture based memory games. The results showed that the musicians scored higher in the tests to that of a similar group made up of non-musicians.
The connection between even simply listening to music and the impact it can have in triggering memories is being continually explored in the growing field of music therapy. Here's a clip from the film Alive Inside which shows this impact:
From my own perspective, I can definitely notice that the process of learning music off has helped me improve my ability to memorise for lots of non-music related activities such as learning off work related tasks quicker.
In a classroom environment, the value of a child working their memory muscle through an enjoyable activity such as music will help with other aspects of the curriculum where memory is important such as their spelling, vocabulary and arithmetic.
2. Listening before playing
Trying to learn a piece of music with no reference point is definitely much harder than listening to a recording before attempting to play it. When I was learning the music for The Skatalites, typically I would listen to a piece through twice, and on the second time start to try to pick out certain bits of it and gradually start to play along.
To help with this process, I prefer to listen on a pair of over the ear headphones as I find it helps keep me focused and away from distractions. Other than this, getting a decent set of speakers can work great too depending on what you suits you best.
I will then continually start and stop the recording while attempting to figure out the musical line on my instrument. I also find listening to different recordings and rewinding back over certain sections are all ways to help build a mental context for learning the music.
While listening is imperative for whatever way you want to learn, other musicians prefer to learn from reading sheet music rather than directly from a recording. In this case, the mental process is spent trying to visually recall the notes on the page. It's really down to each individual as to which technique will work best for you or the class you are teaching.
If you're playing music as part of an ensemble or along to a backing track, listening for reference points from the other parts or instruments in the music can also act as a reference to help trigger the memory of your part in the piece.
3.) Repetition and building up slowly
Sometimes I've seen people get frustrated with learning a piece of music because they're trying to learn it all in one go and at the speed they're use to hearing it at.
The better way to go about learning is to firstly, break down the piece into sections, then secondly into individual lines and finally into the individual phrases within those lines. When starting off, don't try to play the sections at the full performance speed and instead break down each section and play through it slowly and once you're comfortable with that you can gradually built up the tempo.
The benefit of this is you build up the technique for each phrase slowly which allows you to piece it all together to form the full piece. If for instance a line has four phrases, I would plan to build up the practice of it as follows: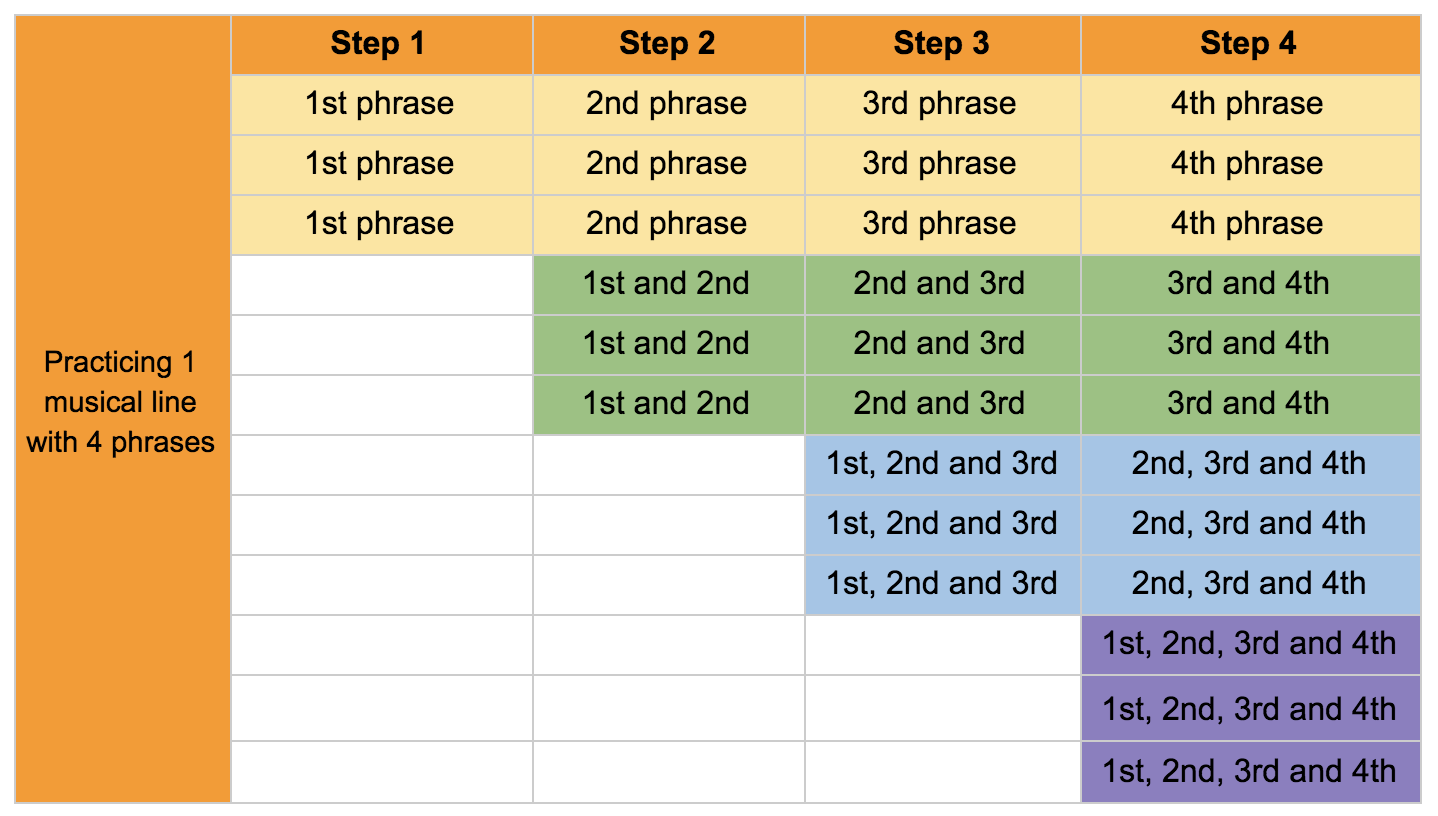 Breaking down a melody into simple phrases is something we have done in our Jazz Cat resource where Jazz Cat plays the line in green and then the class repeats the phrase by following the notes in red and blue.


4.) Being honest with yourself
Sometimes you can find yourself playing through a piece of music a couple of times and feel you have learnt it.
A good test of this is after a few times you have gone through it, go and have a cup of tea and leave it for half an hour. Then come back to it and try and play through it. If you're able to remember then you've learned it sufficiently and if not you should go back through it again.
Being honest with yourself about whether you truly feel comfortable with the memorising of a piece will help you when it comes to performing it.

5.) Memorising Music Will Help You Enjoy The Performance More
It's my experience that the better a piece of music has been learned, the more confident you'll be and subsequently the more you'll enjoy the performance of it. If that means initially working harder at learning the music off, then do it. You'll be glad you did when it comes to performing it.
I've had the experience where I've performed music where I haven't felt as confident with the piece as I might otherwise have been and I've often regretted it. It leads to a less enjoyable performance and a more stressful experience.
If you go into a performance feeling confident and prepared, you will be able to spend less time focusing really hard on remembering your part and more time on expressing the music and interacting with the audience.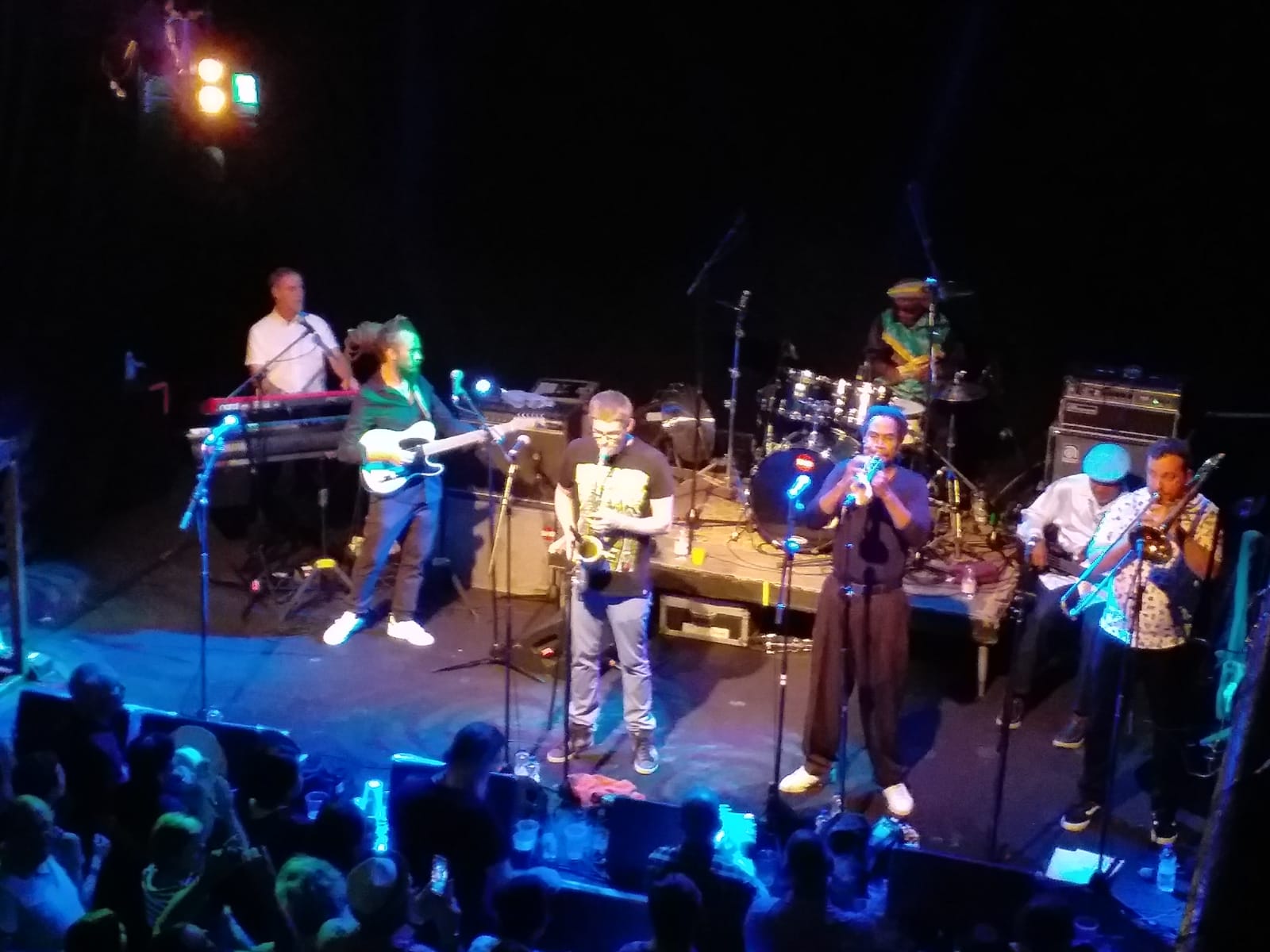 The last thing I noticed from preparing to play with The Skatalites, was that the process of having to learn off pieces, while challenging, was extremely enjoyable. I found the process of continually going back over pieces very meditative and it was also nice to feel that after each practice session I was slowly improving and memorising the lines better.
The process reminded me that the practice and learning of a piece can be as equally enjoyable, beneficial and rewarding a musical experience for myself, as performing that piece in public.
If you'd like to try out some of our interactive resources to help you or your students develop an understanding of some basic musical concepts, why not sign up to our free trial here: